This page provides some data on the effort to resupply those who were Prisoners of War held by the Japanese.
All images on this page are UNCLASSIFIED, regardless of any stamped or printed security classification.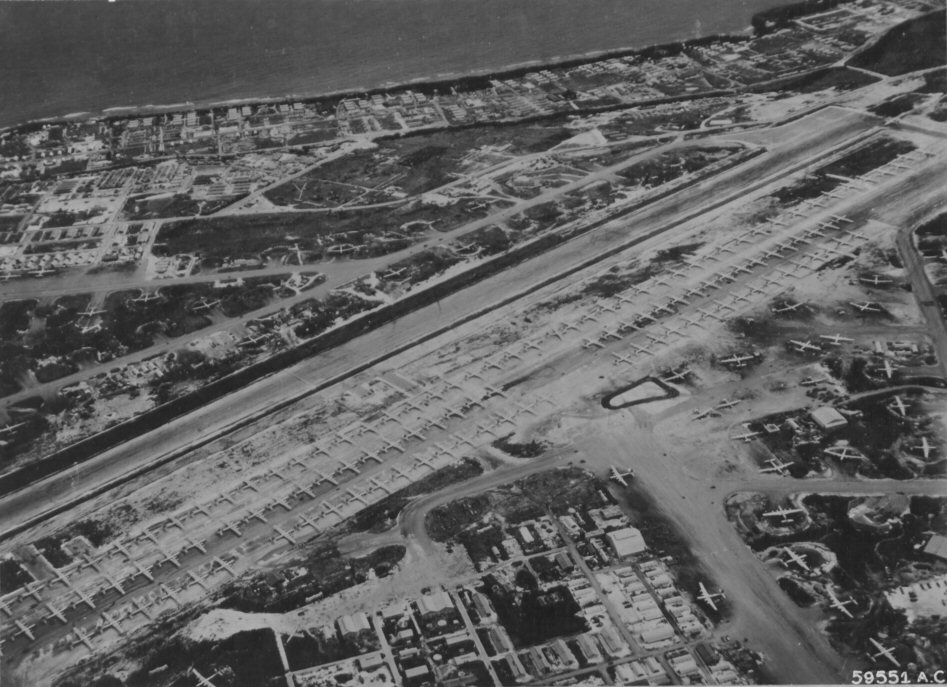 B-29s of the 20th AF assembled on Baker runway, Saipan, Marianas Islands to load food and clothing to be dropped to PW Camps.
(Image above from fold3.com, their collection of images from the National Archives.)

The images shown below are also from the National Archives. Thanks to Rob Williams, who visited the archives, obtained and provided the images.

The following TWX is from 315th BW Headquarters to the subordinate groups advising impending missions to obtain Prisoner of War (POW) supplies from Saipan and prepare for air drops of supplies to POW camps.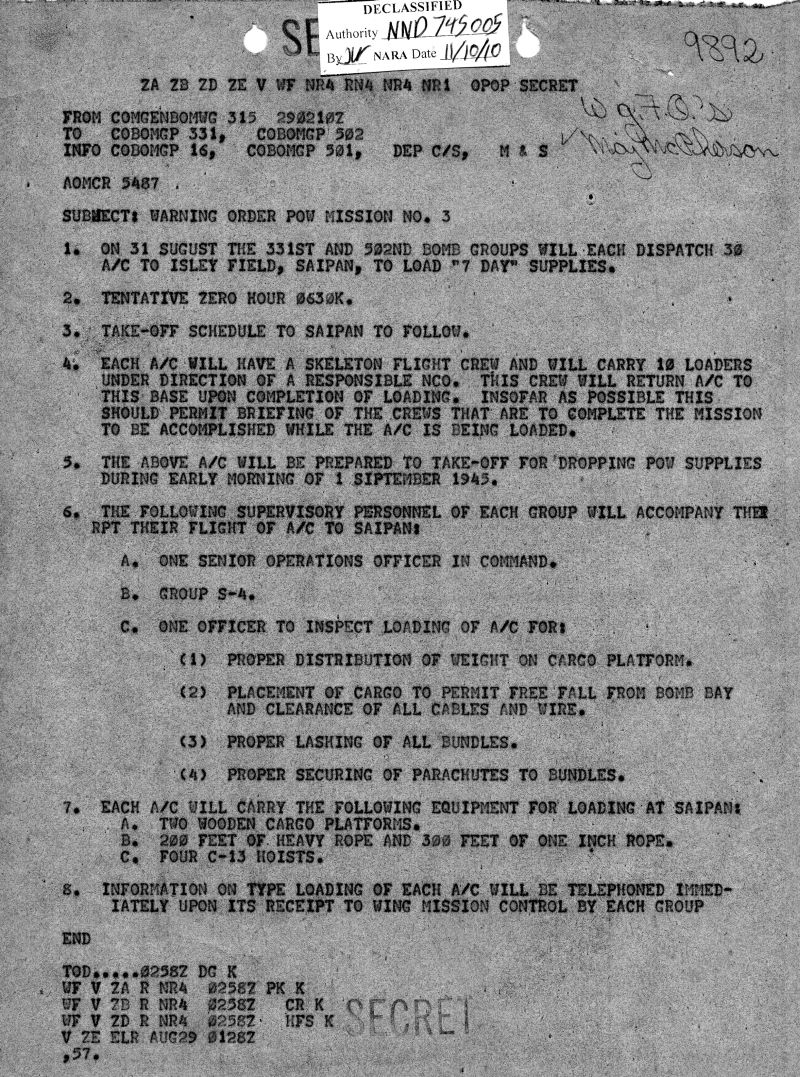 As stated on the subject line, the final instructions for the cargo lift from Saipan.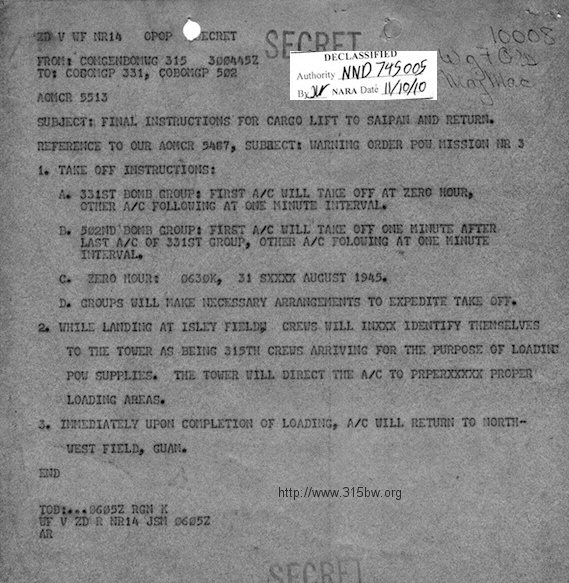 Tasking from the 20AF to identify which camps the 315th were to target for the supply drops.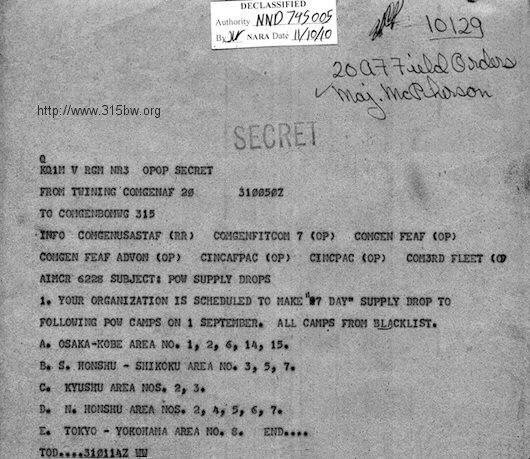 As stated in the message from 20th AF, limits on altitude and drop speed for supply drops.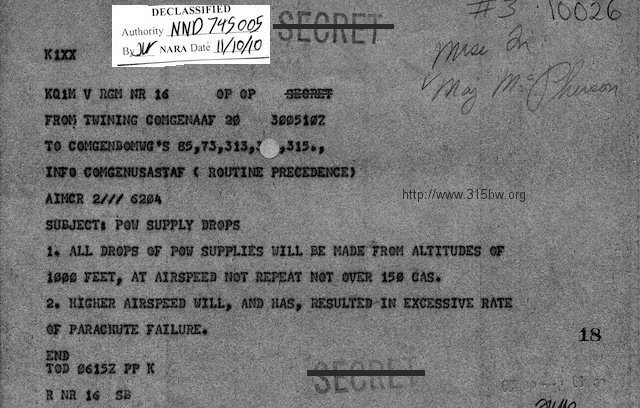 The "originator" and "to" lines are missing, but it seems this was a Field Order tasking message generated by
HQ 315th Bomb Wing and sent to the 331st and 502nd Bomb Groups for action.

The part of the above message, Field Order #3 that applies to the 502nd Bomb Wing.
The portion with the tasking for the 331st Bomb Group is missing.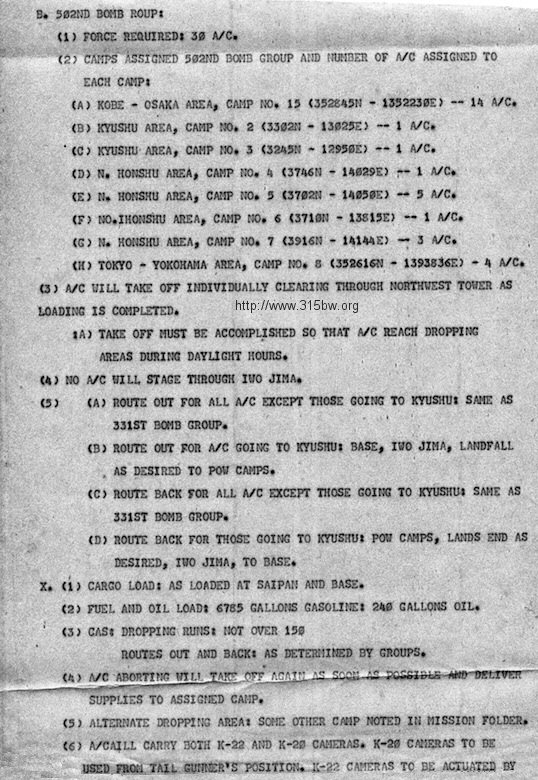 Additional portions of Field Order #3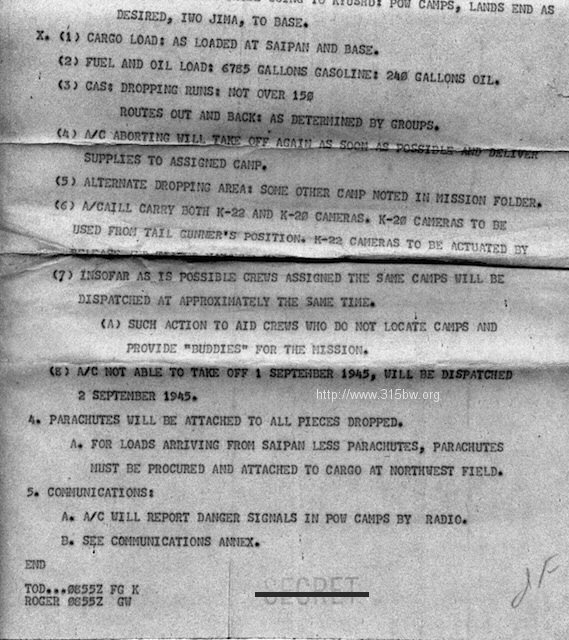 This is the communications annex to Field Order #3.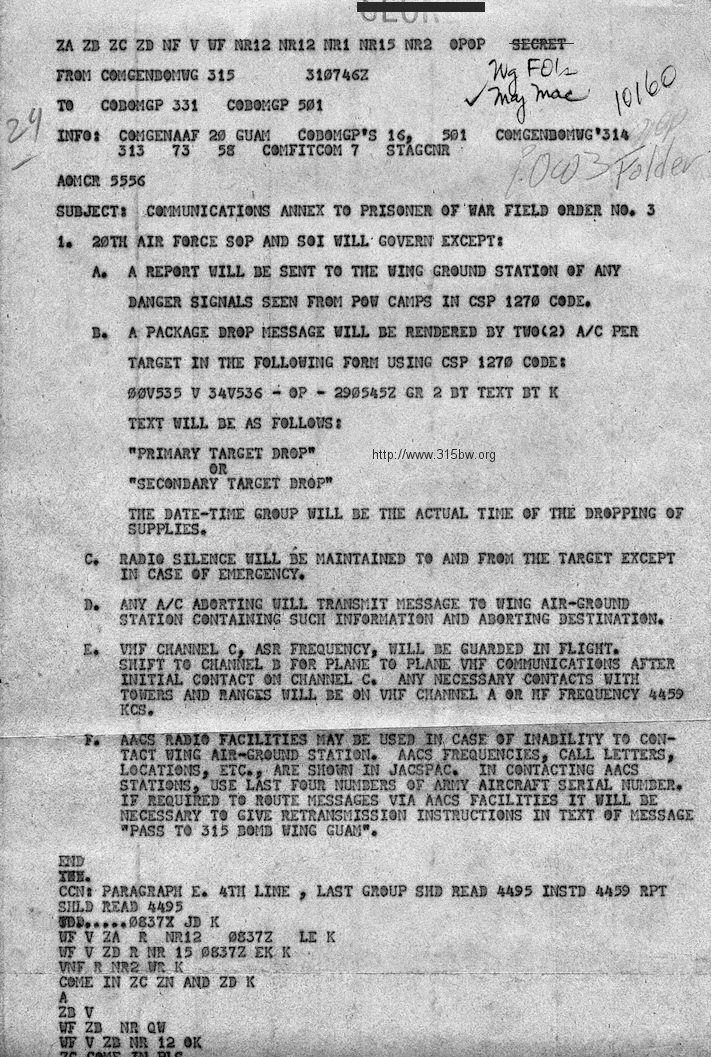 The next three images are mission boards for the POW Resupply Missons.
Times are listed as "K" time. That is the local time zone designator for Guam.
This time zone is 10 Hours ahead of Greenwich Mean Time (GMT)(known in military circles as Zulu or Z time.).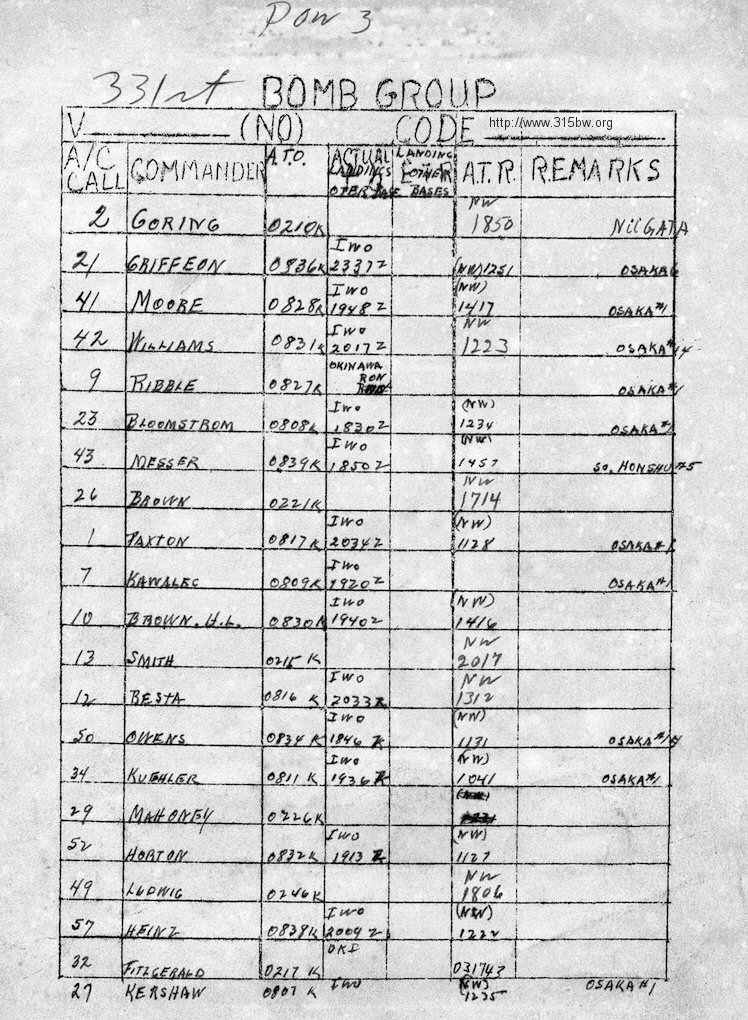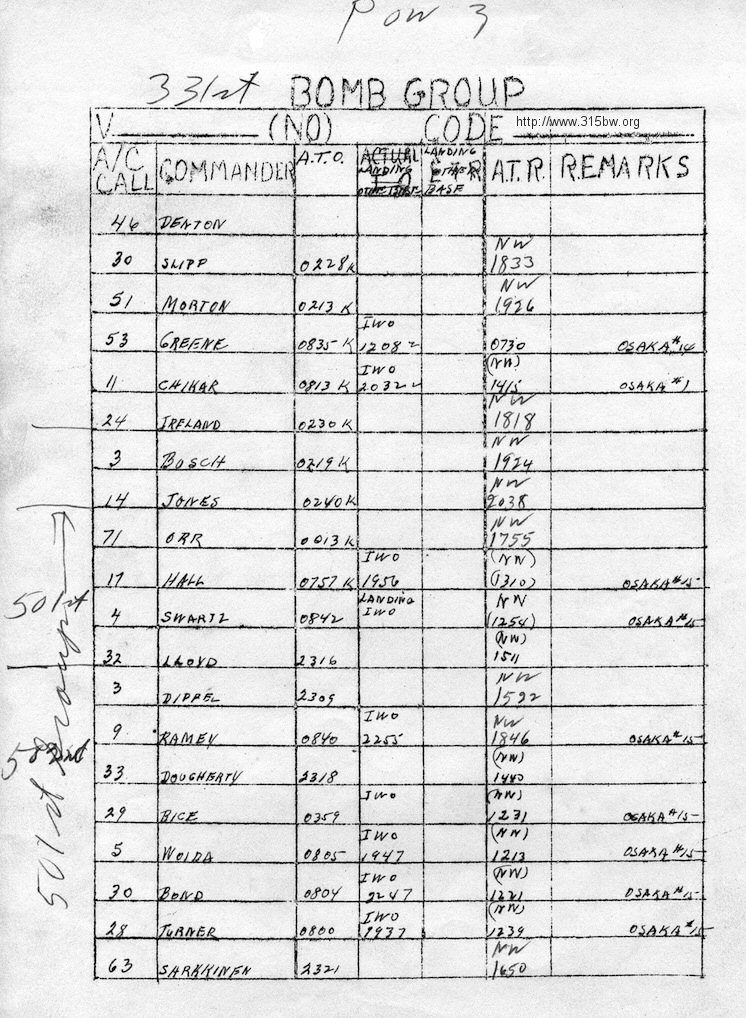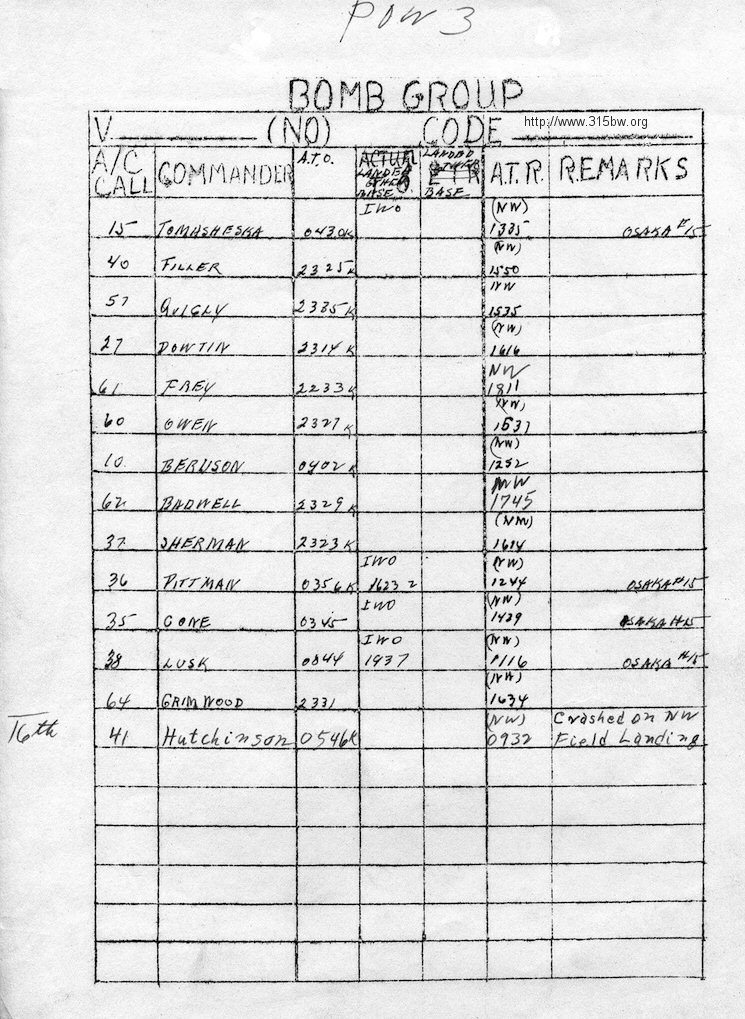 The following is a report on a POW Resupply mission to Northern Honshu island.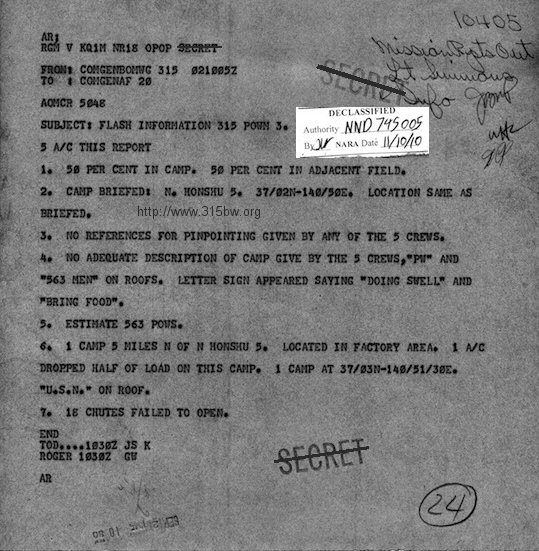 Part of a post drop report for missions on 31 Aug 45 and 1 Sep 45
Slicker was the call sign for aircraft of the 331st Bomb Group.
Temper was the call sign for the 502nd Bomb Group.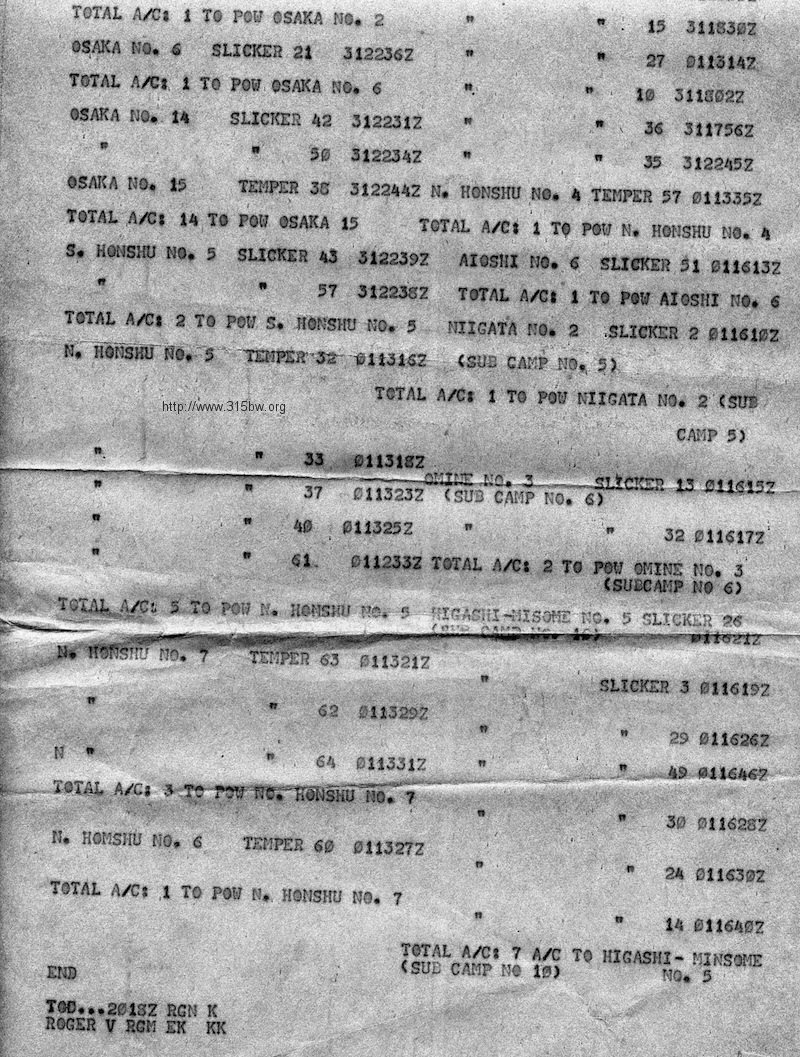 ---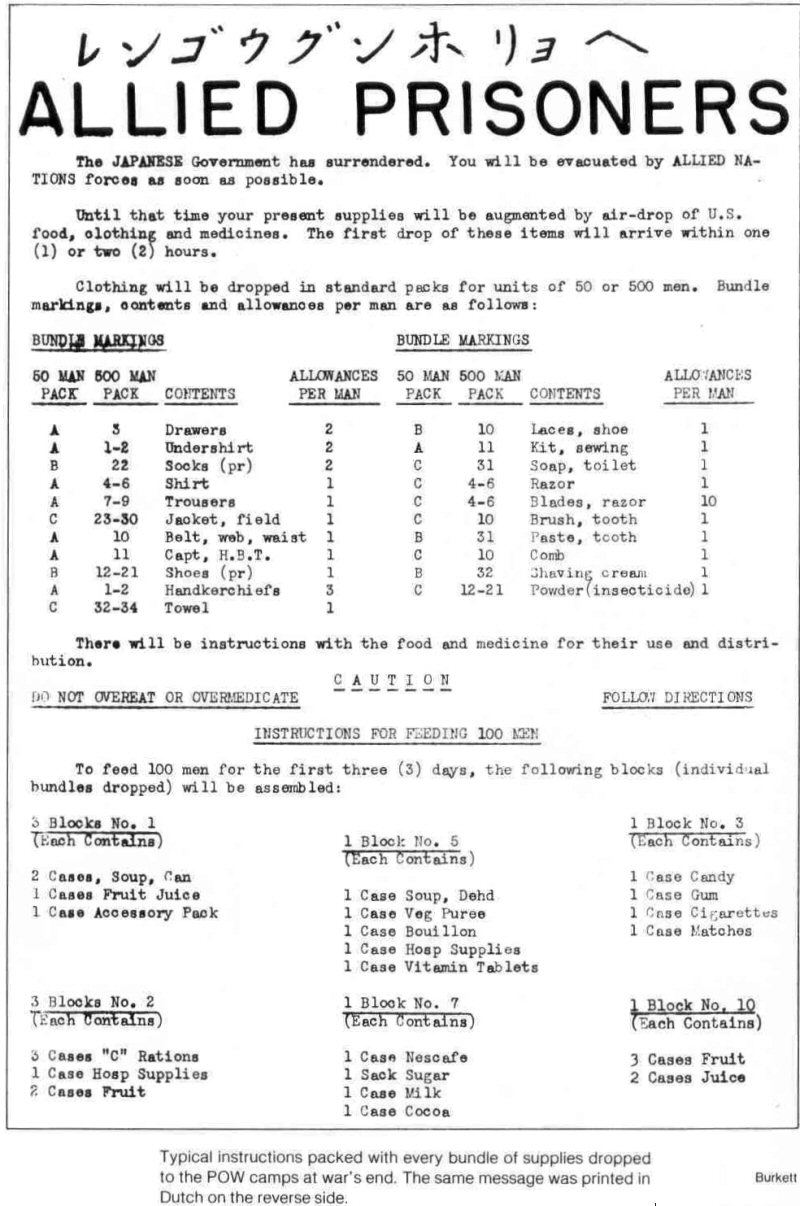 ---
Prior to the end of the war, known prisoner camps were put on the Black List.
(There is an explanation, I'm sure, I just don't know what that is right now.)
Perhaps it meant these areas were off limits for bombing.
As part of the armistance agreements, the Japanese were required to provide a list of prisoner camps.
This list was far from complete and was termed the "Yellow List."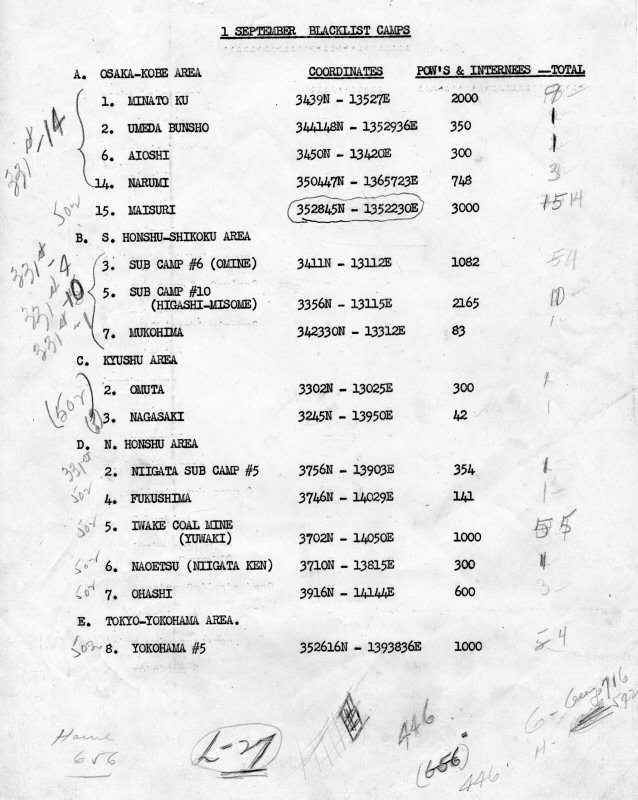 ---
Images of the 20th AF summaries of total drops.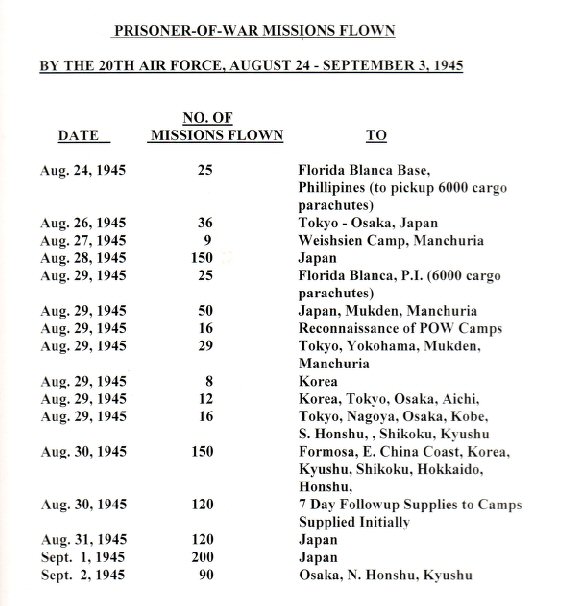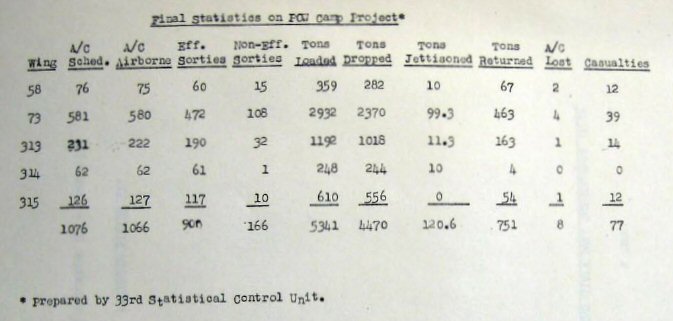 ---
The following information relates to 315th Bomb Wing taskings and results. The data is taken from various sources and each section is presented approximately how it shows on the original sources.


Report No.
Date
Flown

Mission To

Coordinates
Field
Order
POW Report 10
30 Aug 45
Tokyo - Yokohama area #15
3335N - 13945E
315 POW M2 (Omori)
POW Report 11
30 Aug 45
Mukden Area 2
4149N - 12329E
315 POW M2
POW Report 12
30 Aug 45
Tokyo - Yokohama area #17
3530N - 13940E
315 POW M2
POW Report 13
30 Aug 45
Tokyo - Yokohama #270
3551N - 13940E
POW M2 (not clear if a 315th mission)
POW REport 15
29,30 Aug 45
Tokyo - Yokohama #13
3552N - 13939E
POW M1, M3 (photo ref indicates 315th)
POW Report 16
30 Aug 45
China Fort Bayard
211130N - 1102200E
POW M2
POW Report 55
3 Sep 45
Akita Area (No 281)
4044N - 14056E
Mission No 315 POW M4
POW Report 56
4 Sep 45
Narumi
3404N - 13657E
Mission No 315 POW M4
POW Report 57
2 Sep 45
Nagasaki
3243N - 12950E
Mission No 315 POW M4
POW Report 70
1 Sep 45
Iwataki City/Asono Lake
3534N - 13513E
Mission No POW M3 315 Wing
POW Report 71
1 Sep 45
Ohaski
3928N - 14143E
Mission No 315 POW M3
POW Report 72
1 Sep 45
Ube
3356N - 13111E
Mission No 315 POW M3
POW Report 110
1 Sep 45
Osaka
3436N - 13527E
Mission No 315 POW M3 (A/C 067)
POW Report 111
1 Sep 45
Iwaki
No Coords
Mission No 315 POW M3
POW Report 112
1 Sep 45
Miskojima
3423N - 13312E
Mission No 315 POW M3
POW Report 114
1 Sep 45
3916N - 14143E
Mission 315 POW M3
POW Report 115
1 Sep 45
Ube
3344N - 13056E
Mission 315 POW M3
POW Report 116
1 Sep 45
Niigata sub camp #5
No Coord
Mission Mo 315 POW M-3
POW Report 117
1 Sep 45
Fukushima
3746N - 14028E
315 POW M-3
POW Report 118
1 Sep 45
Maizuru
3532N - 13510E
315 POW M-3
POW Report 119
1 Sep 45
Maizuru
3526N - 13517E
315 POW M-3
POW Report 120
1 Sep 45
Narumi (Nagoya)
3404N - 13657E
315 POW M-3
POW Report 121
2 Sep 45
Iwaki
315 POW M3
---
Flown: 29-30 August 1945

Group # 16

Camp #270

| | | | | |
| --- | --- | --- | --- | --- |
| A/C # 62 &nbsp &nbsp | T.O. 281932Z &nbsp &nbsp | Landed: 291035Z&nbsp &nbsp | Drop: 290240 &nbsp &nbsp | Pkgs: 32 |
Camp #276

| | | | | |
| --- | --- | --- | --- | --- |
| A/C # 34 &nbsp &nbsp | T.O. 281931Z &nbsp &nbsp | Landed: 291102Z &nbsp &nbsp | Drop: 290340 &nbsp &nbsp | Pkgs: 31 |
Unnamed Camp as alternate for Fukiyama Ward (35-36N 139-45E)
A/C # 5 &nbsp &nbsp &nbsp
T.O. 281929Z &nbsp &nbsp
Landed: 291045Z &nbsp &nbsp
Drop: 290250&nbsp &nbsp
Pkgs: 32
Camp #277
Take Off: &nbsp &nbsp
First--281918 &nbsp &nbsp
Last---282220
Drop: &nbsp &nbsp
First--290308 &nbsp &nbsp
Last---280605
Landing: &nbsp &nbsp
First--291145 &nbsp &nbsp
Last---291447
&nbsp &nbsp
A/C # 9 &nbsp &nbsp &nbsp
Pkgs: &nbsp 32
A/C # 13 &nbsp &nbsp
Pkgs: &nbsp 31
A/C # 30 &nbsp &nbsp
Pkgs: &nbsp 33
Shikoku
(34-13-05N 133-46-42E)

Take Off: &nbsp &nbsp
First--281855 &nbsp &nbsp
Last---282135
Drop: &nbsp &nbsp
First--290200 &nbsp &nbsp
Last---280505
Landing: &nbsp &nbsp
First--291030 &nbsp &nbsp
Last---291320
&nbsp &nbsp
A/C # 2 &nbsp &nbsp &nbsp
Pkgs: &nbsp 30
A/C # 26 &nbsp &nbsp
Pkgs: &nbsp 33
A/C # 36 &nbsp &nbsp
Pkgs: &nbsp 32
Mukden--Hoten Camp #2 (north)
(41--48N 123-27E)

Take Off: &nbsp &nbsp
First--281849 &nbsp &nbsp
Last---290400
Drop: &nbsp &nbsp
First--290850 &nbsp &nbsp
Last---300500
Landing: &nbsp &nbsp
First--300300 &nbsp &nbsp
Last---020340
&nbsp &nbsp
A/C # 7 &nbsp &nbsp &nbsp
Pkgs: &nbsp 32
A/C # 8 &nbsp &nbsp &nbsp
Pkgs: &nbsp 31
A/C # 53 &nbsp &nbsp
Pkgs: &nbsp 32
Mukden--Unnamed Camp
(41-46-30N 123-28E

Take Off: &nbsp &nbsp
First--281824 &nbsp &nbsp
Last---281959
Drop: &nbsp &nbsp
First--290850 &nbsp &nbsp
Last---300415
Landing: &nbsp &nbsp
First--292045 &nbsp &nbsp
Last---310341
A/C # 3 &nbsp &nbsp &nbsp
Pkgs: &nbsp 33
A/C # 10 &nbsp &nbsp
Pkgs: &nbsp 33
A/C # 14 &nbsp &nbsp
Pkgs: &nbsp 32
A/C # 32 &nbsp &nbsp
Pkgs: &nbsp 32
A/C # 59 &nbsp &nbsp
Pkgs: &nbsp 31
A/C # 66 &nbsp &nbsp
Pkgs: &nbsp 33
Source is 16th Bomb Group history for Sept 1945
---
A final report for the 2 September 45 POW mission shows;
Flown: 2 September 1945
Mission: Per TWX AOMCR 5002. dated 010050Z
1. Group: 16th
2. Area: Kobe-Osaka
3. Total a/c airborne: 1 (41V536)
4. Total packages airborne: 34.
5. Camp & Package Informatino: &nbsp &nbsp &nbsp A. Briefed as camp #15, Kobe-Osaka Area, town of Maizura (35 28 45N 135 22 30E).
&nbsp &nbsp &nbsp &nbsp &nbsp &nbsp 1. No a/c dropping: 0
&nbsp &nbsp &nbsp &nbsp &nbsp &nbsp 2. No & type packages dropped: 0
&nbsp &nbsp &nbsp &nbsp &nbsp &nbsp 3. Time of drop: Not pertinent.
&nbsp &nbsp &nbsp &nbsp &nbsp &nbsp 4. Altitude: Not pertinent.
&nbsp &nbsp &nbsp &nbsp &nbsp &nbsp 5. Air Speed: Not pertinent
&nbsp &nbsp &nbsp &nbsp &nbsp &nbsp 6. Length of run: Not pertinent.
&nbsp &nbsp &nbsp &nbsp &nbsp &nbsp 7. Wind and clouds: Not pertinent.
&nbsp &nbsp &nbsp &nbsp &nbsp &nbsp 8. Time of takeoff: 011946Z
&nbsp &nbsp &nbsp &nbsp &nbsp &nbsp 9. Time of reutrn: Crashed on landing at 012332Z.
&nbsp &nbsp &nbsp &nbsp &nbsp &nbsp 10. Observations: Not pertinent.
6. Packages jettisoned: None
7. Packages returned: 34 (crashed and burned with a/c upon landing)
8. No a/c failing to drop: 1 (41V536) abort and crashed on landing---reason unknown.
9. No a/c lost: 1 (41V536) Abort and crashed on landing---reason unknown.
10. Remarks: None


Source is 16th Bomb Group history for Sept 1945
---
Webpage by Larry Miller
September 8, 2011